Google Workplace is nothing but a repackaged, re-streamed, and rebranded version of Google G-suite. Google Workplace was launched by Google on 6th October 2020. Immediately after launching it became the best friend for employees who wants to bring more productivity into their work. After all, who doesn't love G-mail and Google Meet?
The x-factor of Google Workspace is it offers you the exact thing for your business.  Take it like a new productivity toolkit offered by Google. Some of everyone's favorite Google Workplace tools are- Docs, Gmail, Calendar, Google Drive, Google Meet, Keep, Sites, Sheets, Forms, and Currents. You can access all this stuff under one roof called Google Workspace. It has the capacity to fulfill your productivity needs smoothly. At present, there are over 2.6 billion MAUs (Monthly Active Users) of Google Workspace.
Google G-suite
Google G-suite was the early version of Google Workplace. It was introduced in the year of 2006 by Google. People use it for their personalized domain for a certain subscription charge per month. It is a cloud-based collection of collaboration and productivity tools for your business. The actual set of tools used in G-suite contains- Google Calendar, Google Talk, G-mail, Google Page Creator, Google Docs, Forms, Sheets, Chat, Slides, Drive, and Meet.
Google Workspace for Education:
Google Workspace for education contains tools like Gmail, Google Meet, Google Docs, Google Calendar, Google Sheets, Google Slides, Google Classroom, Google Forms, Google Sites, Google Assignments, Google Drive, Google Groups, and the Administrator Dashboard. But, mostly after the COVID-19 pandemic Google Classroom and Google Meet became so much popular among students. All of these Goggle Workspace educational tools are collaborative tools for teachers and students. These tools help them to stay organized and have a better classroom experience. Here are some parts of Google Workspace for Education you need to know-
Google Workspace for Education Standard: It contains tools like Google Meet, Google Classroom, Docs, Forms, and Chat. All these tools come with high security and protection features. It helps to enhance administrative control.
Google Workspace for Education Fundamentals: It has the same Google Workplace tools as Google Workspace for Education Standard but it doesn't contain that level of security and protection.
Teaching and Learning Upgrade: It adds video-communication capabilities to Google Classroom and other educational tools.
Google Workspace for Education Plus: This contains all types of features of Education Fundamentals and Education Standard and Teaching and Learning Upgrade. Also, it has additional features for specific services like Google Meet Attendance Tracking.
For more information about Google Workspace for Education, just click on the link.
Google Workspace for Business:
Google Workspace formally known as G suit is the perfect companion for your business. It is an all-in-one solution for the cloud-based mailing and collaborating operation of any company. It'll surely help your company to grow effectively.
Google Workspace contains great tools to boost the productivity of your business such as Gmail, Google Docs, Sheets, Slides, Google Drive, Cloud Search, Google Calendar, Google Meet, Google Hangouts or Chats and so more.
One important feature of Google Workspace is that you can access any information anytime from anywhere with just a digital gadget and a good internet connection. It is 24/7 available for you.
Google Workspace comes with extreme security benefits which are mandatory for a business. It includes industry-leading security protocols for both cloud-hosted operations and physical data centers. Also, someone may have to go through different identification verification processes before accessing any kind of information about your company.
Apart from all of these, Google offers 15GB of free cloud storage initially and it is a great place to store unlimited data. You will be charged a subscription fee if you want to increase your storage.
Google Workspace Marketplace:
Google Workspace Marketplace is the best place for your enterprise where you can have different useful applications to add features and functionality to formal Google cloud Apps. If you have a Google Workspace account, then you can easily access Google Workspace Marketplace too. Google Workspace Marketplace tools can enhance your experience in the following ways-
Project Management Tools: These tools can help you with your automated tasks. For example, you can turn your Google Form into an interactive workflow or Gmail.
CRM Tools: It can involve CRM information in different apps. For example, you can add client location or information to your email. You can also set a meeting reminder in your Google calendar.
Admin Tools: These tools make it simple to administer your domain with different features such as enhanced password protection policies or custom security reports.
How to create Google Workspace Account?
Creating your own Google Workspace is easy. Just follow the below-given steps-
Step 1: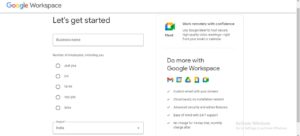 Go to the official website of Google Workspace.
Click on the "Get Started" option
For the number of employees, you can just set one up for yourself or you can choose however many you want.
Then select the country on the list
And then click on "Next".
Step 2:
Next, they will ask you for your contact information (Your first name, last name, and your e-mail address)
Now click on "Next"
Step 3: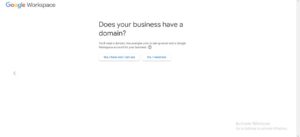 After that, they will ask you for your domain. (If you don't have any domain, you can click on the option "No, I need one". But, here let's assume that you have a domain)
Click on "I have one that I can use"
Step 4:
Next, you have to enter your domain name
And then click "Next"
Then it will confirm if it is correct.
After checking move to "Next"
Step 6: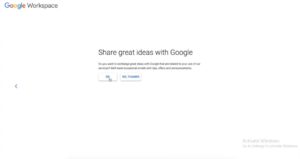 Then they will ask you if you want to share your idea with Google Workspace.
If you are ok with that then click on "Ok"
Step 7:
So, now we are ready to set up our user
Enter the email address you want
And then, assign a password to it
Click I'm not a Robot
Then click on "Agree and Continue"
(If you made a mistake on this, you can also edit it later on under the user's admin portal.)
Step 8:
Then it will confirm that you have selected the 14 day trial with the business-standard subscription. This shows you the price and the currency after your trial ends. If you have any promotional code you can enter that too.
After you are ready let's move on to the "Next"
Step 9: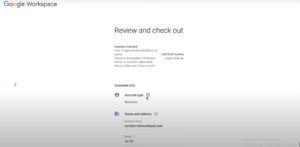 Then enter your business's name, address, and primary contact as well as your credit card information to proceed further with the 14 days Google Workshop trial. (Keep in mind that, you won't get charged anything until your trial ends)
When you're done, click on "Next"
Step 10:
Now you are signed up and ready to use Google Workshop.
Step 11:
In this step, you need to verify your Workspace Domain. It is a mandatory step as you are new to the Google Workspace console.
Open the Google Workspace Set-up Tool
Verify your domain
Step 12:
It is the last step of creating Google Workspace, where you need to add your Mail Exchange records for receiving emails in your inbox.
So, these were the steps you need to keep in your mind while creating a new Google Workspace account. Now, you have your email address for your domain.
*Note: You may receive error messages while signing up for your Google Workspace account. If this issue occurs, then visit https://support.google.com/a/answer/6166309?hl=en.
Google Workspace Sync for Microsoft Outlook:
Here are the steps you need to follow if you want to sync your Google workspace account with Microsoft Outlook-
Step 1:
First, go-to apps in the Google Admin Console
Then go to Google Workshop
Make sure Directory, Calendar, Docs and Drives, and Gmail has an "On for everyone" service status
In Apps go to G-suite
Then "Settings for Gmail"
Click on "Advanced Setting"
Select "Enable G Suite Sync for Microsoft Outlook"
Select API access on the Google Admin Security page
Go to Apps > Google Workshop > Setting for Directory
Select "Enable Contact Sharing"
Again go to Apps > Google Workshop > Setting for Drive and Docs
Select "Allow users to access Google Drive with the Drive SDK API"
Step 2:
In this step, you have to install Google Workspace Sync for Microsoft Outlook
First, go to the Install GSSMO page
Expand "I'm installing GSSMO myself".
Select the GSSMO download page.
Select "Download G Suite Sync" on the G Suite download page
Select Run > Yes
Select "Close" after finishing the installation
Sign in to your Google Workshop > Continue
Select your account > Allow
Select "Create Profile" under "Create a G Suite profile in Microsoft Outlook"
Select "Start" on the setup confirmation page
Select "Accept and start Outlook" on the Microsoft 365 confirmation page
After synchronizing your contacts, calendar, and email with Outlook select "Close" and done.
Google Workspace Cost:
There are 4 main plans offered by Google Workplace-
| | | |
| --- | --- | --- |
| Plan Name | Cost/ month | Storage on Google Drive |
| Business Starter | $6/user/month | 30 GB |
| Business Standard | $12/user/month | 2TB |
| Business Plus | $18/user/month | 5TB |
| Enterprise | You have to contact sales for pricing | Unlimited |
*Note: Google Workspace is free for educational and non-profit organizations
Google Workspace for Education offers educational fundamentals to all schools, colleges, and other qualifying educational institutions free of cost. But, for those who want premium features Google also has paid content like Teaching and Learning, Education Standard, and Plus.
So, these are the basic things you need to know about Google Workspace. Please share your thoughts on it and do comment if you have any additional suggestions for the following topic.